RTFFC Week 5 Wrap Up
Wed Oct 9 2:09pm ET
By ChrisToeFer
Contributing Writer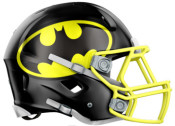 Batman takes the overall RTFFC lead
Greetings from RTFFC Headquarters and the desk of Commissioner Toe. We're traveling through the RTFFC leagues this year covering and highlighting a different league color each week. This week, we're honoring RTFFC White.
For those not familiar, RTFFC is the RealTime Fantasy Football Championship. Each RTFFC color includes 12 leagues, each league competes individually for prizes, and at the end of the season, the top 16 teams from those 12 leagues compete for an overall $10,000 prize. This season there are nine RTFFC colors.
The Flying Purple People Eaters (FPPE) team from Purple 3 (P3©) laid an egg in Week 5 with only 84.2 points. They are now 3-2 and dropped to the middle of the pack in their league. Like many teams last week, they were burned by having Will Fuller and his 53 points sitting on their bench. The league office pucker factor remains at Defcon 1, though.
Top Teams
We have a new overall RTFFC leader this week. B.Wayne's Team Batman in RTFFC White put up 197.2 points last week and now leads all RTFFC teams with 840.3 on the season. Averaging 168 per week, last week they were led by Christian McCaffrey's 47.7, Russell Wilson's 32.6, Chris Godwin's 31.5, and Leonard Fournette's 23.7. This is a very solid team, as they've got a 67-point lead on second place in RTFFC White and are 27 point favorites in their matchup this week. They also hold a slim five point overall lead on second place and last week's overall leader R.Mogard's Vike's 103 team.
Bottom Teams
Last place overall continues to be held down by a team from Red 9. They nearly doubled their weekly average by putting up 123.9 and a win in Week 5. They're now averaging a whopping 86 points/game. The all-disappointment team's Week 5 lineup was Aaron Rodgers 11.9, Sony Michel 21.3, Jeff Wilson 0.0, DeAndre Hopkins 15.8, Stefon Diggs 7.4, DJ Chark 36.4, OJ Howard 2.0, Zane Gonzalez 14.1, 49ers 15.0 . They are 19.5 point underdogs in Week 6 against a 2-3 team.
Waiver Gems and Gaffs
The waiver wire is pretty barren at this point in the season. Running backs with a pulse are worth their weight in gold, but there are still gems at other positions in some leagues. We are down from 88 winning bids over $400 last week to only six this week. Jaylen Samuels received most of the big bids on speculation that James Conner's ankle may not be fully recovered. Samuels promptly went out and scored 3.5 points and will miss the next month with an injured knee. Not such great news for the team that spent $637 on him.
A few leagues still had some gems available, so they're still out there, but they didn't come cheap. The most notable being Will Fuller ($333), Tevin Coleman ($370), Jordan Howard ($420), Dede Westbrook ($360), and Kyler Murray ($297).
Current League Leaders
| | | | | |
| --- | --- | --- | --- | --- |
| League Color | Points | Team | Owner | |
| RTFFC White​ | 840.30 | Team Batman​ | B.Wayne​ | |
| RTFFC Silver​ | 835.20 | Vikes 103​ | R.Mogard | |
| RTFFC Red​ | 811.10 | Ribeye Express | R.Lucas | |
| RTFFC Black​ | 808.9​0 | Banana Flashers​ | J.Rapuzzi​ | |
| RTFFC Platinum | 797.35 | Wiggly Worm | B.Eiler | |
| RTFFC Gold​ | 795.05 | Jonesin' | J.Martelin | |
| RTFFC Blue​ | 790.40 | Team Batman | B.Wayne | |
| RTFFC Purple​ | 777.20 | Tds and Beer II | R.Omelas | |
| RTFFC Green​ | 775.45 | Ballin While Broke 6​ | R.Sangerman​ | |
Good luck and don't forget to get those waiver claims in before Wednesday and Friday night waivers this week.
ChrisToeFer has been working in the fantasy industry since 2008. His day job is developing apps and other software such as DFS, draft, and auction rooms. His alter-ego is chief cat-herder in the RTSport chat rooms, trying to maintain some semblance of order.